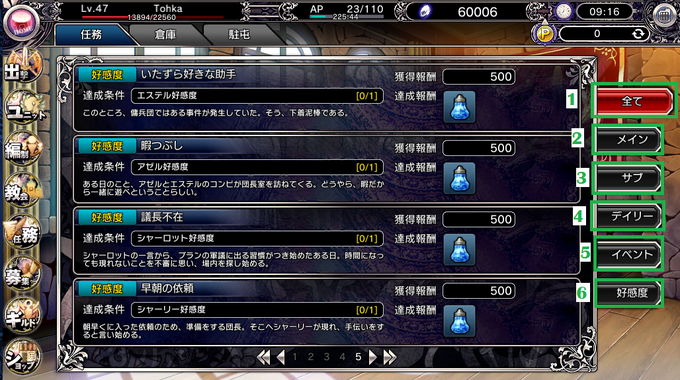 1 = All Quest
2 = Campagn Quest
3 = Sub-Quest
4 = Exchange Quest + Daily quest (with 5 Golden Coins)
5 = Event Quest
6 = Relationship Quest
Daily QuestEdit
- Roll in the gacha 10 times
- Use 50k exp from the conversion to level up units (And some but with less use exp)
- Do dungeon 10 times
Exchange QuestEdit
- Exchange 5 happy medals (the yellow coin with smiley face on it) for affection items (daily)
- Exchange 2 happy medals for affection items (sub-quest, one time only)
Event QuestEdit
Generally this tab consists of either getting S-rank for each event maps, or clear event maps X times.
Ad blocker interference detected!
Wikia is a free-to-use site that makes money from advertising. We have a modified experience for viewers using ad blockers

Wikia is not accessible if you've made further modifications. Remove the custom ad blocker rule(s) and the page will load as expected.